About Us
Improving handling of products, ensuring less space consumption in storage products and making reliable stacking solutions is Stakall, a Vasai, Maharashtra (India) located company that was formed many decades back in the year 1991.

As manufacturer and exporter, we keep analyzing market trends and requirements, making use of which MS Box,MS Drum Pallet, Cage Bins, Steel Pallets, Aluminum Pallets and Drum Pallets are manufactured. Our focus on production of quality based storage products and material handling equipment is to better many companies performance pertaining to storage and delivery of products.

Quality being main factor in our products, is applauded by all our customers. We use supreme metal for making above said products and this makes a major reason why our offerings serve for a longer time period and prove best than conventional products made in plastic and wood.

Our ISO 9001:2015 accredited entity is proud to have a loyal customer-base that is not only present in national, but international markets also. Being a quality provider of storage and material handling products, we ensure secure delivery through perfect packing.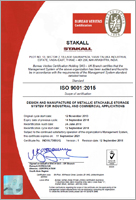 Read More